Recruiting 2025 - Carr Carves out Road of Success
For standout 2025 Abby Carr, the avenue to achievement began at a young age.
"I remember back when Abby was in 7th and 8th grade telling Abby's parents that she was going to be a Power 5 kid," said Matt Alvarado, head coach of Select Fastpitch – Alvarado 18u. "They looked at me like I was crazy back then, and look at her now."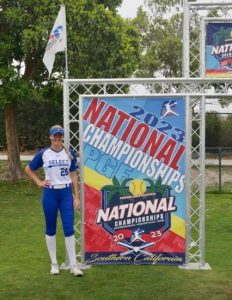 The junior RHP/1B has developed into one of the top prospects to watch in the 2025 class, but her path has been paved through many years of arduous training and a genuine enjoyment for the game that she has grown to savor.                                                          
Carr's passion for sports started at a young age. With a strong athletic pedigree – mom Katie was a D1 softball player at the University of Pittsburgh and dad Mike played baseball at Missouri State & Scottsdale CC before spending 10 years in the MLB in various roles – Abby took to athletic competition early on.
"I would come home from school and all the kids on the street would play wiffle ball until I had to leave for a practice or lesson," said Carr. "This is how I learned to play softball. I would swim 3 or 4 days a week competitively and we did softball work 3 times a week. I don't remember it being work; it was just fun! I was able to be with my friends. Whether it be practice or lessons, we always had something going on and when we didn't, we were playing wiffle ball outside." 
It was at around the age of 11 that Abby started to gravitate mostly towards softball.
"I played everything from soccer, volleyball, basketball, competitive swimming, tennis, and even golf," said Carr. "In fact, my parents did everything to push me not to play softball. They didn't want me to feel like I had to do what they did. Clearly it did not work!"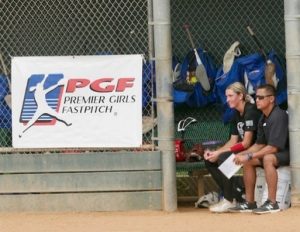 As Abby got older, the combination of her work ethic and advanced approach began to help elevate her game.
"Something that has set her apart has been her maturity," said coach Matt Alvarado. "I remember back in 2020 when she was a seventh grader, she didn't carry herself like a 12 year old."
Fast forward to the present and the 6'0" RHP/1B armed with 66mph heat, a vicious curve and devastating change up in the circle – along with standout power at the plate and a strong glove in the field – has cemented herself as an exciting prep prospect in the 2025 class.
As September 1st approached, Carr was not without emotions.
"I felt confident about the work that I had put in and the camps that I have attended," said Carr. "I was getting good feedback from coaches, along with things that I needed to work on as well. I struggled staying focused leading up until midnight, but I was excited, nervous, and even had butterflies in my stomach. I had a 9:30pm hitting lesson that didn't get me home until about 10:45pm. Keeping busy was a good thing leading into midnight."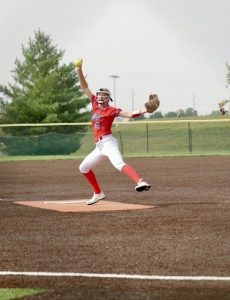 Once the clock hit midnight on 9/1/23, that's when the phone began to buzz.
"I received about 15 phone calls, texts, and videos in the first 20 minutes once it hit midnight," said Carr. "I finally went to bed at 2am. I had scheduled calls on Sept. 1 up until 12:30pm and then had to find a way to get focused to go play a High School game against a really good team from Oklahoma. That evening I had another 15-20 texts and emails to respond to and scheduled 12 more zoom/phone calls over the weekend. It was incredibly overwhelming and flattering. It still is to be honest! I am extremely thankful to every coach that believes in me and has reached out."
While she has not made an official commitment yet, Carr did indicate that she has narrowed her list of schools down to eight, with four official upcoming visits set up between Big 10, Big 12, SEC, and ACC schools. 
In the meantime, Abby plans to continue putting in the hard work that has led her to this point, while also reflecting on the positive support that she has received from her family and friends.
"My mom always tells me to enjoy the moment and don't look to the future too soon; you won't appreciate what's in front of you," said Carr. "I would love to win a state championship for my high school, but first we have to get out of one of the hardest districts in the state. I would also like to finalize my commitment as well. I'm thankful that at 9:30pm on any given night that my sister will catch my spins, or early in the morning my parents can throw front toss. Most of my friends all play sports at a high level – whether it be volleyball or soccer – so they are very understanding of my schedule. I have a great group of friends that are supportive and always checking in!"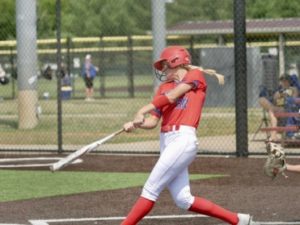 Abby Carr's story of focus and a positive outlook offers inspiration for her peers and encouragement for a younger generation of athletes.
"Don't ever give up," said Carr. "There is no recipe to success. Passion and hard work will take you the farthest. I was just an average player when I began my journey. My parents gave me every opportunity to help navigate my path and even told me that I don't have to do this. I choose to work hard and am thankful for every opportunity, good and bad – it has made me who I am today. I would also tell kids and parents to celebrate the small victories. The small victories will turn into big victories. This process is a marathon, and it took me 12 years to get to this point from the time I picked up a ball at age 5."