Recruiting 2025 – Robbins Builds on Foundation of Family and Friends
For Farmington, MO class of 2025 LHP/1B/OF Elly Robbins, softball runs in the family. Having grown up and watching her older sister Abby play with Top Gun Fastpitch (and now a sophomore playing at Southeast Missouri State University), Elly developed a curious interest in the game at a young age.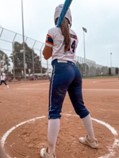 My sister had a lot to do with my motivation behind starting to play softball," said Robbins. "I would watch her practice and watch her games. That got me started and on my feet from there."
The game had an immediate impact on Elly, as she took to working with her sister along with a group of friends from the Farmington, MO area.
"My sister Abby and I would work together to make each other better, ever since I started playing," said Robbins. "There's also a group of girls from my hometown that I've played together with for a long time. We play high school ball together now and we've always hung out together, whether it was on the softball field or just socially."
It was at around the age of 10 years old that the idea of pitching came to the forefront of Elly's pursuit.
"I can clearly remember one night sitting at the dining room table," said Elly. "My dad mentioned after talking about my older sister Abby's pitching that it could be cool to have two pitchers in the family; one that is right-handed (Abby) and one that is left-handed (Elly)."
Shortly after that conversation, Elly added pitching to her game, along with a strong bat and a good glove. She starred as a high-level athlete at a young age, achieving success in the pitcher's circle, in the batter's box and in the field.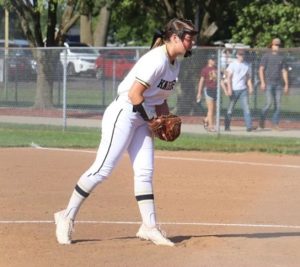 Elly now finds herself as a well-regarded 2025 recruit, playing with the Top Gun National 17u team, sought after for her left arm in the circle and bat from the left side.
"Elly's a left-handed pitcher that sits low-mid 60's and spins it very well," said Randi Davis-Shanks, Robbins pitching instructor and coach for the Top Gun '08 National team. "She's just a very smart, level-headed kid. Her curve, rise and change are great strengths. When she works ahead and manages counts, she is dangerous."
Davis-Shanks also believes that Robbins could be a legitimate two-player at the next level as well.
"She hits very well," said Davis-Shanks, emphasizing the word "hits" in her statement. "I absolutely think that Elly can play on both sides. She is a disciplined enough kid that she'll continue to work on both. She works her tail off, she's super respectful and overall just a great kid."
That work ethic has included weekly visits with a personal trainer, weekly pitching lessons and countless hours of tee work and front toss on her own. She also has participated in the Inner-Circle Pitching program that her travel organization Top Gun Fastpitch ran last winter, which was a 16-week structured combination of a throwing and workout blueprint that according to Robbins helped her gain some speed on her ball.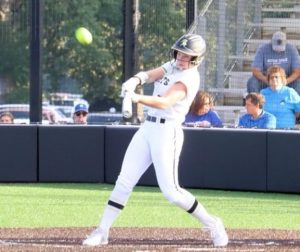 Robbins overall commitment to developing herself has led to interest from multiple college programs eager to bring her into their system. With a strong academic background and a desire to play on both sides of the ball, Robbins is weighing her options carefully.
"I'm not rushing anything by any means," said Robbins. "But I hope that I can find somewhere to call home sometime over the next several months. Ultimately, I'm looking for a school that can help me meet my academic goals along with my softball goals."
With a positive perspective on the present state of the game and a mature respect for what opportunities the game can offer, Elly Robbins offers an inspiring outlook to the next generation of athletes with similar goals.
"The softball community is doing well," said Robbins. "The game is getting plenty of recognition. I would say find something that you enjoy and work hard. It's not easy to be a student-athlete, but if it's something that you enjoy and love, it's something that you can run with and it can help you develop a good work ethic and lead to great friendships."