Gretna defeats Papillion-LaVista for Third Straight Metro Conference Championship
The weather was beautiful, the stands were packed, and you had two talented teams on the field for Monday night's Metro Conference championship game.  Gretna beat Papillion-LaVista 4-1 to claim their third straight Metro Conference championship.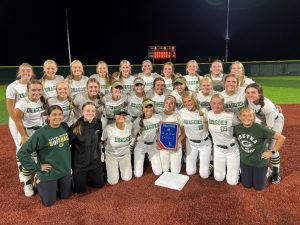 Gretna (17-1) was led by Nebraska commit Alexis Jensen (2025).  The junior threw a complete game with 11 strikeout's and allowed three hits while only allowing one walk.  Hitters were finding it difficult to lay off her rise ball.  Her change up was effective at keeping hitters off balance.  Jensen needed only 96 pitches to get through the game.
In the bottom of the 5th inning, following a Megan Marshall (2026) single and an Annisten Travarrow (2025) walk, Jensen drove in the first two runs of the game with a double to right-center field.  Marshall finished 1-for-2 on the night with a walk. 
The Dragons added two more runs in the 6th inning on an Emerson Johnson (2026) home run and a throwing error.  After Brylee Rupiper (2025) was hit-by-a-pitch, courtesy runner Maddie Kurrus (2027) reached second on a passed ball then stole third.  She later scored on a throwing error by Monarch pitcher Amanda Gibilisco (2025).
Papillion (12-5) got on the scoreboard in the 7th when Kloey Hamblen (2025) hit a one out home run.  It was her 5th home run of the season.  Hamblen, a Peru State commit, finished the night 2-for-3 with a run and RBI.  Gibilisco pitched 5.1 innings with six strikeout's and three walks.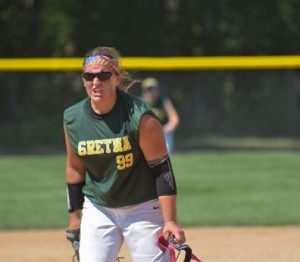 Gibilisco kept the Dragon hitters off balance most of the night by hitting spots and mixing up speeds.  She located her fastball well and showed command of her change up leading to several ground balls or routine pop fly's.  Carly Bertolini (2025) came in to get the final two outs.This was the 31st annual Metro Conference softball tournament.  For Gretna, it was their third straight Metro Conference title.  They beat Papillion in 2021 and Omaha Marian in 2022 while finishing runner up in 2019.  Papillion has won 15 Metro Conference titles and finished runner up five times.